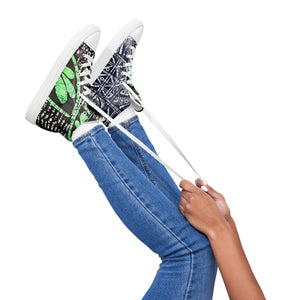 Adire Inspired Women's high top canvas shoes
Sale price Price $125.95 Regular price Unit price / per
Don't forget to treat your feet with care! The classic, stylish high top canvas shoes will be a great addition to your wardrobe. Our high top Canvas feature a vibrant Adire-inspired pattern that won't fade, so they can stay in your wardrobe for a long time. Expressing the love for my culture through art and clothing and sharing it with the world is the best feeling. Whenever you adorn yourself in our pieces, you promote thousands of years old culture, support q small business and most importantly, look good as heck!

• 100% polyester canvas upper side
• Ethylene-vinyl acetate (EVA) rubber outsole
• Breathable lining, soft insole
• Faux leather toe cap
• White laces
• Padded collar, lace-up front


Disclaimer: The shoes will have a glue-like smell when opening the box. The smell will disappear a few days after the shoes are unpacked.
Size guide
| | | | | | | |
| --- | --- | --- | --- | --- | --- | --- |
|   | US WOMEN | UK | EUROPE | FOOT LENGTH (inches) | JAPAN | OUTSOLE LENGTH (inches) |
| 5 | 5 | 2.5 | 35.5 | 8 ⅝ | 22 | 9 ¾ |
| 5.5 | 5.5 | 3 | 36 | 8 ⅞ | 22.5 | 9 ¾ |
| 6 | 6 | 3.5 | 36.5 | 9.00 | 23 | 10.00 |
| 6.5 | 6.5 | 4 | 37.5 | 9 ⅛ | 23.5 | 10 ¼ |
| 7 | 7 | 4.5 | 38 | 9 ¼ | 24 | 10 ¼ |
| 7.5 | 7.5 | 5 | 38.5 | 9 ½ | 24.5 | 10 ⅝ |
| 8 | 8 | 5.5 | 39 | 9 ⅝ | 25 | 10 ⅝ |
| 8.5 | 8.5 | 6 | 40 | 9 ¾ | 25.5 | 10 ¾ |
| 9 | 9 | 6.5 | 40.5 | 10 | 26 | 11 ⅛ |
| 9.5 | 9.5 | 7 | 41 | 10 ⅛ | 26.5 | 11 ⅛ |
| 10 | 10 | 7.5 | 42 | 10 ¼ | 27 | 11 ⅜ |
| 10.5 | 10.5 | 8 | 42.5 | 10 ½ | 27.5 | 11 ⅝ |
| 11 | 11 | 8.5 | 43 | 10 ⅝ | 28 | 11 ⅝ |
| 11.5 | 11.5 | 9 | 44 | 10 ¾ | 28.5 | 12.00 |
| 12 | 12 | 9.5 | 44.5 | 11.00 | 29 | 12 ⅛ |
| | | | | | | |
| --- | --- | --- | --- | --- | --- | --- |
|   | US WOMEN | UK | EUROPE | FOOT LENGTH (cm) | JAPAN | OUTSOLE LENGTH (cm) |
| 5 | 5 | 2.5 | 35.5 | 22 | 22 | 24.8 |
| 5.5 | 5.5 | 3 | 36 | 22.6 | 22.5 | 24.8 |
| 6 | 6 | 3.5 | 36.5 | 22.9 | 23 | 25.4 |
| 6.5 | 6.5 | 4 | 37.5 | 23.2 | 23.5 | 26.2 |
| 7 | 7 | 4.5 | 38 | 23.5 | 24 | 26.2 |
| 7.5 | 7.5 | 5 | 38.5 | 24.1 | 24.5 | 27 |
| 8 | 8 | 5.5 | 39 | 24.5 | 25 | 27 |
| 8.5 | 8.5 | 6 | 40 | 24.8 | 25.5 | 27.3 |
| 9 | 9 | 6.5 | 40.5 | 25.4 | 26 | 28.3 |
| 9.5 | 9.5 | 7 | 41 | 25.7 | 26.5 | 28.3 |
| 10 | 10 | 7.5 | 42 | 26 | 27 | 29 |
| 10.5 | 10.5 | 8 | 42.5 | 26.7 | 27.5 | 29.5 |
| 11 | 11 | 8.5 | 43 | 27 | 28 | 29.5 |
| 11.5 | 11.5 | 9 | 44 | 27.3 | 28.5 | 30.5 |
| 12 | 12 | 9.5 | 44.5 | 28 | 29 | 30.8 |